Family welcome in a typical mountain chalet in Limone Piemonte
WE ARE NOW OPEN UNTILL THE END OF OCTOBER!
First mid of September: open every day.
From mid September and for the whole month of October: open every day except on Tuesdays.
Contact us to book your table by calling: +393483301992
ROAD INFORMATION TO FRANCE, LIGURIA and VIA DEL SALE:
Limone Police Department +39 0171 925290 or Limone Tourist Office +39 0171 925281
How to reach us:
Where you can go starting from Chalet le Marmotte:
Alta Via del Sale, one of the most beautiful white roads in Europe. Info and reservations: https://www.altaviadelsale.com/ita/#inline-auto911
The 50 hairpin bends road is CLOSED. The fastest way to reach France and Liguria is Via Casterino: the road is not paved. It is a dirt road, passable with a fairly high car (no mini or golf, ok Panda) not necessarily 4×4, by bike it is very panoramic, beautiful even on a muscular MTB. It is a high mountain road, and for this reason we strongly advise you to drive on it only if you are very confident with mountain roads. You can look for it by entering 'Casterino' on Google Maps. To go to Casterino from Le Marmotte, turn right. Once on Colle di Tenda, from the Madonnina turn right following the signs for the Baisse di Peiyrafique. Continue on this dirt road for 14km. Once you arrive in Casterino, a 16 km paved road reconnects you to the Valle Roya state road (the one beyond the tunnel) and to Tenda. This is the only possible alternative to the Tenda tunnel. However, the safest and fastest alternative to reach Liguria is the Turin-Savona motorway (the closest toll booth is Cuneo).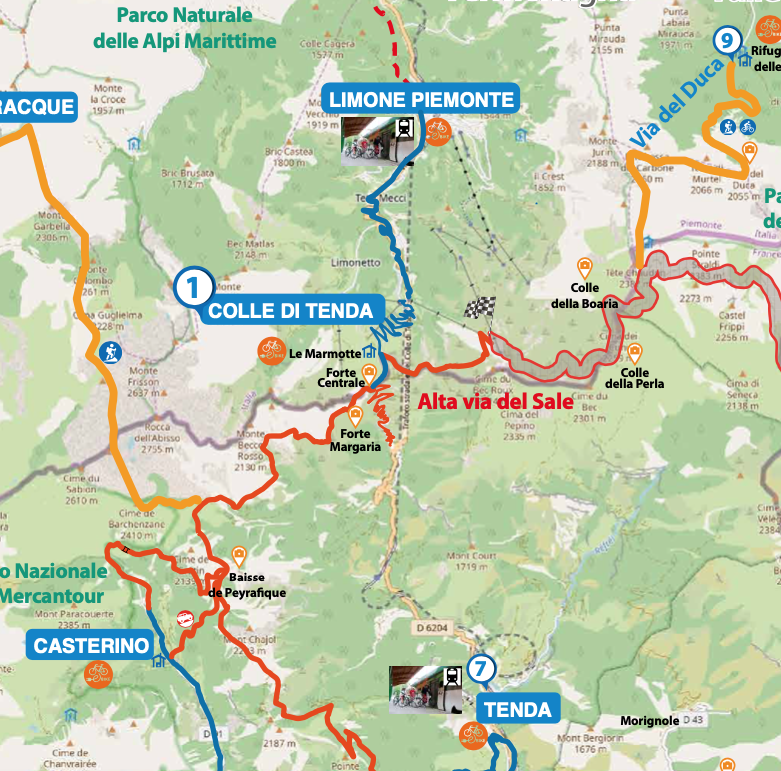 Opening period:
Summer: from the spring opening of the road to the end of October
Winter: from December to April
Restaurant service:
Please book your inside table by calling +39 3483301992. If you prefer to eat outside, there is no table service on the terrace, just pop in when you arrive and order directly at the cash till!
Chalet le marmotte is a restaurant, NO BEDROOMS!
Contacts
You can call us:
+ 39 3483301992
+39 3293115514
or email us:
chaletlemarmotte@gmail.com
Opening times:
Summer: 8,30-18
Winter: 8,30-16